Traditional Metal Braces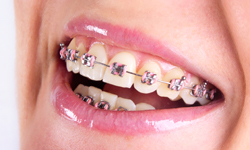 Traditional metal braces are the most common type of braces and are more comfortable today than ever before. Made of high-grade stainless steel, metal braces straighten your teeth using metal brackets and archwires. With metal braces, you have the option of adding colored elastics (rubber bands) for a more unique and colorful smile.
Self-Ligating Braces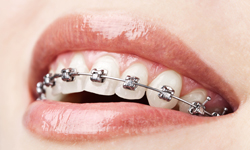 Self-ligating braces are made from the same materials as traditional braces. However, self-ligating braces do not require the use of elastics, meaning fewer appointments and less friction being placed on the tooth. Self-ligating braces come with traditional metal, ceramic, or clear brackets. They are the same size as metal braces, but use a specialized clip in place of elastics to help the archwire guide teeth into place. The clip helps reduce the amount of pressure being placed on the tooth, and requires fewer adjustments because there are no elastics to replace.
How to get your Braces:
It's that easy. You won't have to wait weeks to start treatment. You can get your braces as soon as you like after your complementary exam.
For all of our treatments, we offer a number of payment options. At your complimentary consultation, we'll work with you to create an In-office payment plan that meets your financial needs and helps you achieve your dream smile.